Fashion brand in the UK fined £60,000 for violating PECR and Consent Management
A fashion brand based in the UK called Just Hype Ltd, started as a self-funded project and is now facing penalties of up to £60,000 for breaking PECR.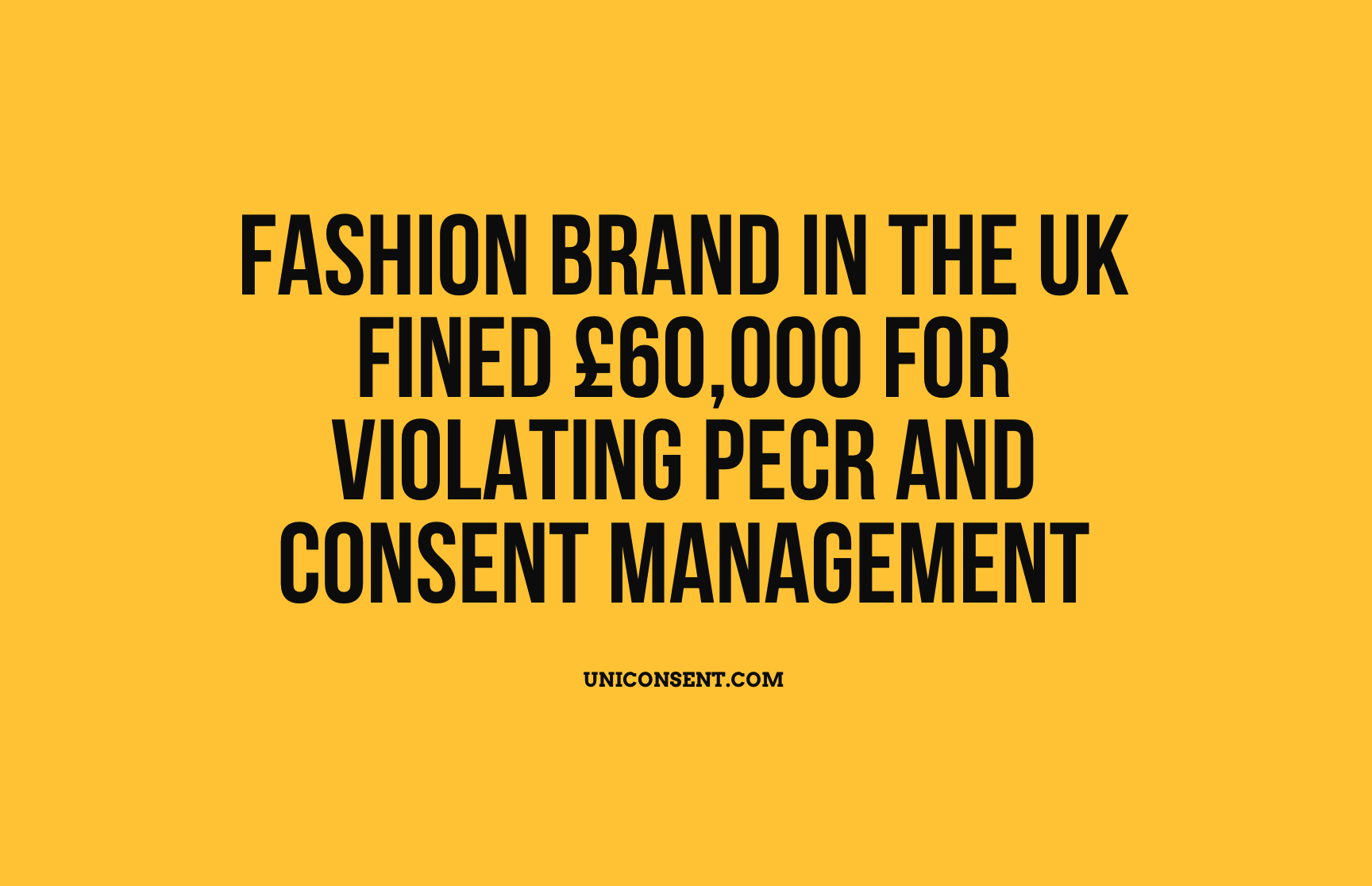 Fashion brand in the UK fined £60,000 for violating PECR and Consent Management
The Information Commissioner's Office (ICO) in the UK has issued the fine for Just Hype Ltd for their illegal activities based on breaking the Privacy and Electronic Communications Regulations (PECR) act.
Just Hype Ltd had sent over 1.7m marketing emails and messages between 1 June 2019 and 12 June 2020. These messages contained direct marketing information that subscribers had not given their consent to receive the content from Just Hype Ltd.
This violation of the PECR act came to the surface after 151 complaints were made against the marketing material to the ICO in the UK. With that in mind, it is easy to see how quick this kind of penalty can take effect and be caught. Anyone can report these kinds of marketing emails to the ICO which they then have a Monthly Threat Assessment (MTA) to assess companies violating the PECR.
No one likes email or marketing spam you did not ask for, it is a legal requirement to make sure you ask for consent and give an easy way to opt-out if a user decides to, which is were UniConsent can help thousands of businesses comply and avoid those hefty fines, helping businesses focus on their core business without the worry of breaking legal requirements.
However, Just Hype Ltd could have avoided such costs if they had adopted an consent management solution like UniConsent. Just Hype Ltd did not even deliberately intend to breach the PECR act, so you can see how important it is to make sure you are compliant, it is not something that should be left to decide later.
UniConsent helps companies like Just Hype Ltd as the platform provides Consent Analytics and tracking, allowing the company to use user data in compliance with the PECR.
And allowing the customer to easily see what they are consenting to and manage their options, giving a clear understanding of how their data is used.
It is not just large corporations that are affected by such penalties, any company is expected to take these reasonable actions to respect user privacy and data. UniConsent ensures that you are compliant with important policies like General Data Protection Regulation and U.S. CCPA California Consumer Privacy Act etc.
By using a platform like UniConsent you get access to Realtime Consent Analytics and Insights, Automated Cookies Scanning and Disclosing, Consent Collection Management and much more.
UniConsent can help you focus on your core business by taking consent and data management stress and worry away, knowing you are compliant with data protection laws and that you are respecting customers' privacy. It can be daunting to understand all the new data protection laws like the GDPR and what it requires from you, this is why UniConsent's core focus is to provide a consent management platform that can be integrated with any website or system and controlled from the simple web UI.
A direct example of how important consent management is and how UniConsent can solve this problem is upon further investigation of Just Hype Ltd violations, it was found that after they had sent over 107,795 SMS messages, only 72% of those were customers of Just Hype Ltd and that 29,995 marketing messages were incorrectly sent, this was a result of distribution lists being confused and not managed carefully enough.
UniConsent aims to make this transition we are facing around data protection easy for both ends; making it painless for ad stack, Software as a Service (SaaS) sites or E-commerce/ marketing websites to manage user data consent properly.
#

About UniConsent
UniConsent is a part of Transfon User Experience Platform serves tens of millions of users per day to provide a seamless privacy experience for both users and publishers in the age of post GDPR. Contact us to know more: hello@uniconsent.com