Cookie Consent for Website
GDPR cookie consent for publishers. As a registered Consent Management Provider (CMP) approved by IAB Europe, makes your website GDPR compliance easy.
Streamline your GDPR-compliant process
Website cookie consent management service, GDPR cookie banner and data subject requests management solution for digital publishers, SaaS, Marketing company, E-commerce websites.
Website cookie blocking, discovery and disclose
UniConsent scans websites and discover the cookie and show them to users automatically. It is important to maintain transparency how you use cookie on website based on general data protection regulation.
Premium Support
We are experts solving problems, errors on your website related to GDPR CMP. Our dedicated support team makes support hassle-free and efficient.
GDPR cookie consent collecting
Cookie consent is not only the legal requirement for publishers. DSPs and demand sides only bid on impressions with GDPR consent. UniConsent make sure passing EU GDPR consent signals to your demand partners.
Highly customizable cookie consent banner
UniConsent's visual style is simple yet distinct. Perfect for your website whether it be a basic marketing site, or multiple domains large publishing website.
High performance and reliability
We understand the performance, latency and and reliability of the consent system are critical for large publishing website, SaaS or E-commerce system, marketing website.
Consent analytics and insights
Compare with other CMP, UniConsent provides consent tracking and charts for you to gain insight of the whole consent system.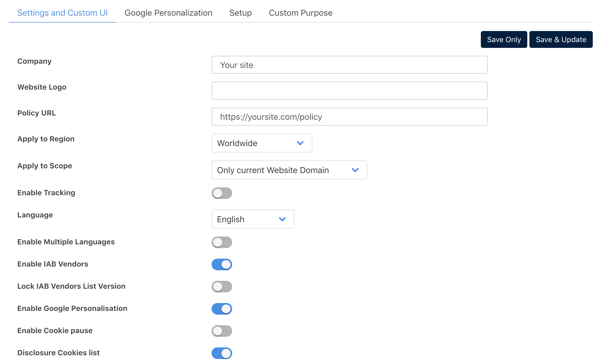 Fully customize cookie consent banner, pop-ups, bars
Customize everything like colours, consent messages or the size of the button.