IAB TCF 2.1 Update: Background, Keypoints and Deadline
IAB EU has made some changes to the existing IAB TCF 2.0 and updated the version to be IAB TCF 2.1. This article will explain what is the background, the changes and the deadline of IAB TCF 2.1.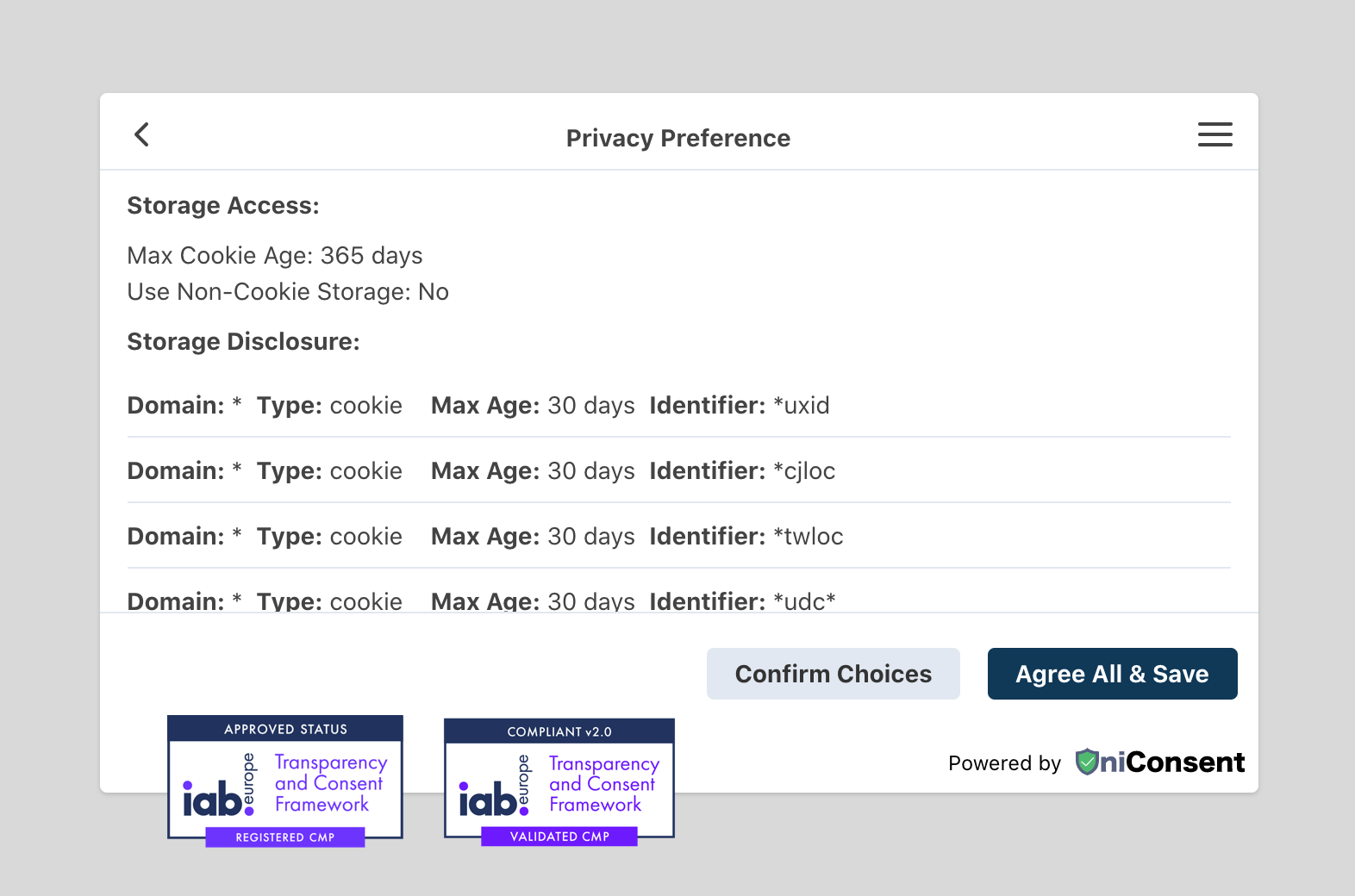 IAB GDPR CMP IAB TCF 2.1 - UniConsent
#

Background
The Court of Justice of the European Union (CJEU) ruling in case C-673/17 (Planet49). You can check more details of the case of Planet49.
"In 2013, Planet49 GmbH, a German website, organized a promotional lottery online. To participate in the lottery, users were required to enter their postcode, which then prompted users to provide their names and addresses. Beneath this request for names and addresses, Planet49 sought two consents from users. The first consent pertained to users being contacted by third parties for promotional offers. The second consent pertained to cookies being dropped on users' browsers in connection with participation in the online lottery. Planet49 sought consent for the third-party promotional offers through the use of an unticked box, and separately for the use of cookies through a pre-ticked box."
On October 1, 2019, the CJEU ruling interprets the GDPR and ePR to mean that pre-checked checkboxes on consent banners are invalid forms of consent, apart from strictly necessary cookies. The consent has to be explicit.
P.S. UniConsent is following the best practice and has no pre-checked checkboxes, the consent is explicit from day one.
#

The keypoints of the CJEU judgment:
Pre-ticked checkboxes invalid: pre-ticked check-boxes do not constitute valid consent.
Cookie data does not have to be personal: it does not matter whether the cookies constitute personal data or not - Article 5(3) of the e-Privacy Directive (i.e. the cookie consent rule) applies to any information installed or accessed from an individual's device.
Transparency: website users must be provided with information on the duration of the cookies, and whether third parties will have access to the cookies.
#

TCF Group updated the TCF 2.0 based on the judgment of CJEU
The Transparency and Consent Framework (TCF) Steering Group have recently approved an amendment to the TCF v2.0 Policies.
Vendors must disclose maximum cookie storage duration

CMPs must disclose each vendor's maximum cookie storage duration or other storage duration

CMPs must disclose the more detailed and purpose-specific storage and access information for each vendor

A prohibition for Vendors to refresh the maximum storage duration
The deadline for TCF 2.1 implementation is 31st January 2021. The CMPs which have not upgraded are considered invalidate.
UniConsent is following up all the update from TCF Group and UniConsent users should have the TCF 2.1 ready as of today.
#

About UniConsent
UniConsent is a part of Transfon User Experience Platform serve tens of millions of users per day to provide a seamless experience for both users and publishers in the age of post GDPR. Behind Transfon, it is a group of performance and user experience experts. Contact us to know more: hello@uniconsent.com