How UniConsent can help you comply with upcoming IAB privacy policies in Canada
On the 18th of February 2021, the Interactive Advertising Bureau Canada (IAB Canada) released a draft for their new Canadian Transparency and Consent Framework (TCF Framework) for public comment.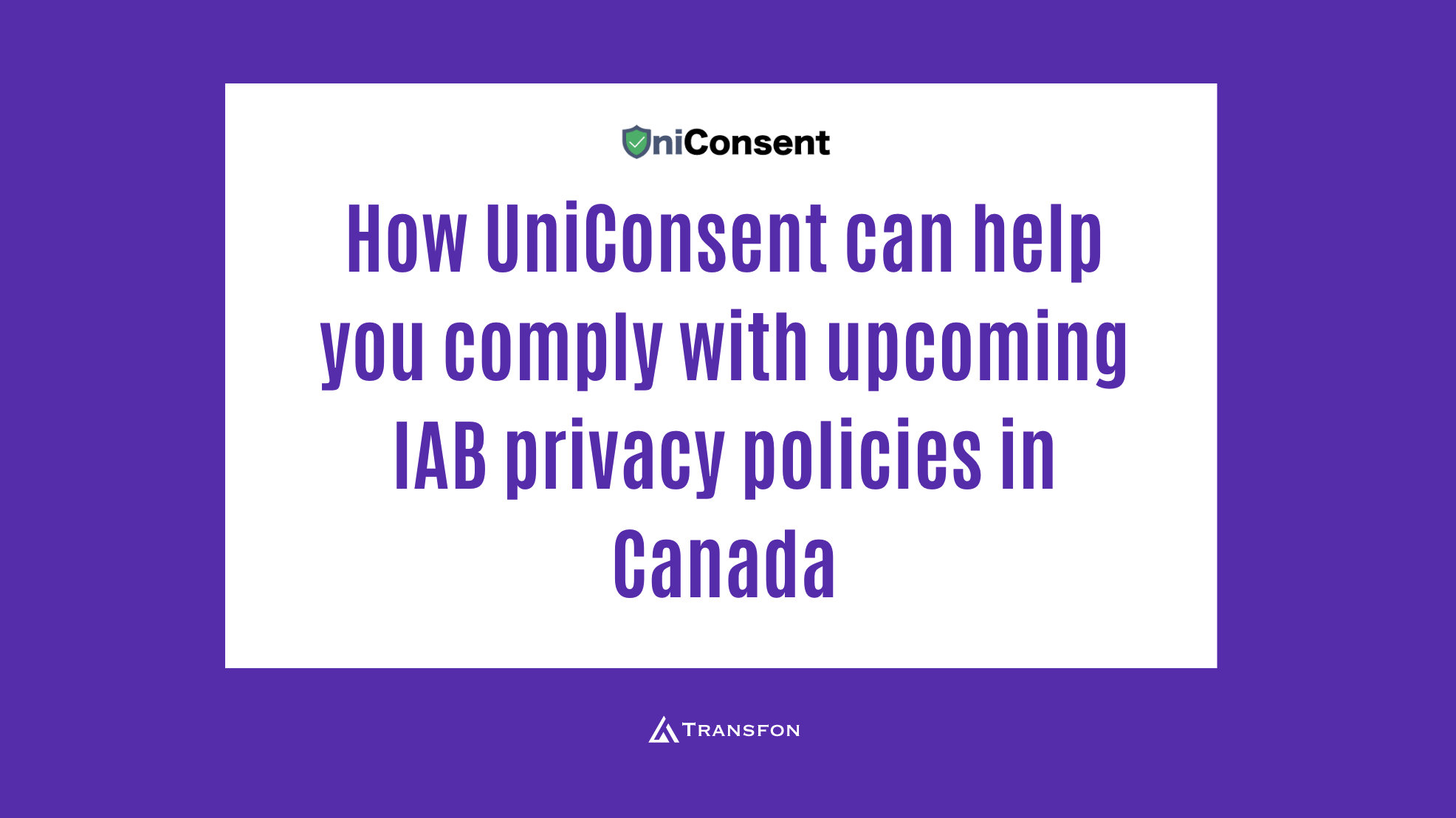 How UniConsent can help you comply with upcoming IAB privacy policies in Canada
What does this mean for end-users? With digital privacy seeing more and more transformation and disruption throughout the tech industry, there are ever-changing laws and regulations coming into play that companies must comply with, in order to continue selling products and services without substantial penalties - An example of this is if a company breaches the General Data Protection Regulation (GDPR), they can face fines of up to €20 million or up to 4% of the annual worldwide turnover.
Because different laws apply within different countries regarding privacy and data protection, there are many different regulations and laws that you may be subject to follow if operating your business within a certain geographical area. With UniConsent being a certified EU IAB consent management platform, once the IAB Canada is released in its final form, any new privacy laws which are passed will enforce companies to eventually comply, even if they have not considered or implemented a solution to respect these ever-changing regulations; a tool like UniConsent can help solve these problems all companies face, user privacy is becoming extremely important over the last few years and keeping up to date with all the regulations can be difficult.
UniConsent already offers a platform that supports compliance with the following regulations:
General Data Protection Regulation (GDPR)
California Consumer Privacy Act (CCPA)
Brazilian General Data Protection Law (LGPD)
Transparency and Consent Framework (TCF 2.0)
And many more...
As stated before, these regulations are all subject to different jurisdictions and require different obligations. The Canadian Transparency and Consent Framework is still in draft, but it is recommended to comply before these new changes take place if you are going to be affected. The UniConsent platform provides full support for IAB TCF v2 and with IAB TCF v1.x already outdated and not receiving further support, you will likely have seen advertising revenue drop because the vendors stop supporting the TCF v1.1 signals. It is easy to be affected by such changes and by not being informed, thousands of businesses could be losing out financially.
This is why a compliant consent management platform UniConsent can be extremely helpful to any business of any size. UniConsent is equipped to help businesses transition between the different IAB versions and make sure they are always up to date with the latest policy changes because, as it was said before, tech privacy laws are always adapting and it can be difficult to keep track of everything, especially on a global scale.
With UniConsent supporting a wide range of languages and automatic switching based on the country of the user and already supporting IAB TCF v2 with intelligent cookie scanning, helping to automatically disclose cookie usage to end-users, UniConsent makes global marketing and privacy law binding regulations easy to manage and comply with.
These new regulations and privacy laws may at first seem annoying or cumbersome to comply with but UniConsent makes compliance easy. However, with both the company and the user being aware of these new privacy regulations, user data and consent is properly managed and we can form a better relationship between companies and customers.
IAB Canada will eventually be released and will become an essential building block for the online ecosystem's compliance with Canadian Privacy Laws. No matter the compliance, UniConsent is focused on making sure every noticeable privacy regulation is met and following up any changes, helping you navigate the tech industry disruption on user privacy and consent.
The major thing to consider with what has been discussed here, is you have to ask whether you want to tackle this complex responsibility yourself as IAB Canada states within the draft that Consent Management Platforms (CMPs) no matter if they are private or commercial, must adhere to the framework policies and be prepared to change or update to keep in line with any policy changes. The independent operated CMP UniConsent is dedicated to making sure these responsibilities and framework specifications are met, so you don't have to worry about outgrowing any potential business requirements, should you need to handle user data and consent differently in the future; own built CMPs may be required to implement some of the IAB Canada specifications but with UniConsent you have peace of mind knowing the full specification will be supported.
IAB EU and Canada both have the rights to remove any CMPs if they are found not to be complying with the framework specification and hold them accountable, potentially leaving businesses open to privacy law penalty. UniConsent can help you with following proper regulations around the end-user.
#

About UniConsent
UniConsent is a part of Transfon User Experience Platform serves tens of millions of users per day to provide a seamless privacy experience for both users and publishers in the age of post GDPR. Contact us to know more: hello@uniconsent.com